Failing at the Colorado Capitol, advocates took their case directly to voters The outcome — the first voter-initiated renewables mandate — was national news.
The story so far. Triggered by the oil embargoes of the 1970s, Colorado became a forum for explorations of alternative futures for energy. One outcome was creation of a grassroots organization called the Colorado Renewable Energy Society was created in 1996. The organization aimed to provide education, but it also part of a team effort early on to show why Colorado's largest utility should buy wind power at a project called Colorado Green.
by Allen Best
The 2004 success of Amendment 37, Colorado's first renewable energy mandate, was preceded by nearly a decade of failure. Mark Udall, a Democratic state legislator from Boulder County in the 1990s, had sponsored legislation that proposed to give consumers rights to choose clean energy. He couldn't get it across the legislative finish line. After Udall went to Congress in 1998, his mission was taken up by what some might have seen an unlikely source, a Republican legislator from rural Colorado.
That legislator, Lola Spradley, the first female speaker of the Colorado House of Representatives, had grown up on a farm in Weld County. There, when crops failed, production royalties from "stripper" oil wells—those nearing the end of their productive life—paid the farm's property taxes. She saw wind turbines being the equivalent of oil wells, a way to secure income for rural landowners in years of crop failures. Lehr says she told him that she also understood the power of a large monopoly because she had worked for AT&T when it was called "Ma Bell" in Colorado and enjoyed a monopoly on telecommunications. She said she understood irrational monopoly behavior toward suppliers and their general aversion to change.
Spradley, representing rural areas of southern Colorado, three times beginning in 2001 proposed the minimum renewable energy standard along with Democratic colleagues from Boulder County. Votes were narrow, but she always fell short.
Rick Gilliam, then with Western Resource Advocates, tells about rising frustration with the legislative process. But although popular accounts have always fingered Xcel Energy as the stick in the renewable mud, he tells a more nuanced story.
"Really it was the coops that stopped it," he says. "And here's the thing: It didn't even apply to them. It would not have applied to any of the coops. They talked about how dangerous renewables would be. In fact, I remember a guy (likely the individual who then directed the Colorado Rural Electric Association) who testified during a committee hearing in the third year we made a run about this. He was arguing against rooftop solar. 'If you pass this bill, people are going to die,' he said. I almost laughed out loud, because it was so ludicrous to go to that extreme to try to scare people. I don't think many of the legislators took him seriously. But it showed how worried and maybe even scared the coops were."
Finally, that third year, Matt Baker—who was then head of Environment Colorado—proposed a back-up plan. If legislators said no again, then they would make their case directly to voters through a ballot initiative.
That's what they did. They needed 68,000 signatures to get on the ballot. The allied environmental groups and CRES delivered 115,000. Baker and Gilliam became the most prominent public faces for the advocates.
Gilliam had a wealth of experience on several sides of the energy equation. His first job out of college was with the Federal Energy Regulatory commission in Washington D.C. After six years there, he was offered a position with the Public Service Co. He immediately fell in love with Colorado. He stayed with the company for 12 years and acquired an education in how investor-owned utilities operate and their relations with state regulators. In addition to energy efficiency and demand-management programs, he helped figure out how to shut down St. Vrain, then a trouble-plagued nuclear reactor, and replace it with natural gas-fired generation.
In 1993, he made another career move, this time going to work for Western Resource Advocates. His recruiter there was Eric Blank, who is now chairman of the Colorado Public Utilities Commission. Gilliam agreed to a year-long term that turned into 12.
During his time while still at Xcel he had also begun thinking about an alternative energy paradigm. A pivotal experience was leading a tour of Pawnee, the coal-fired power plant near Brush that began operations in 1984. He remembers the dirtiness of coal, wondering if there was a better way. Reading the works of Amory Lovins in Sierra Club bulletins and elsewhere, Gilliam became persuaded by solar energy in particular.
"I always thought it was the coolest technology. It is lovely because it has no moving parts. You just put it out there and it generates electricity."
On the campaign trail that summer, Gilliam and others found a mostly receptive audience along the Front Range. Fort Collins, for example, had already adopted renewables requirement for its city utility, requiring that 15% of its power come from wind sources by 2015, double what was being proposed for Colorado.
In rural Colorado, the reception was mixed. Rocky Mountain Farmers Union favored the initiative, and the Farm Bureau opposed it.
For some audiences Spradley had a colorful analogy. She described the wind turbines as upside down oil wells. Her view was that it would "keep people on the farm."
Later, Gilliam and other advocates learned that Xcel had had a strong conversation within its corporate ranks about what position to take. In the end, says Gilliam, the utility seems to have been persuaded by Tri-State Generation and Transmission, Colorado's second largest utility, about the need for a united front.
"Don't downplay their opposition too much," he says. "But they didn't feel internally near as strongly as Tri-State did."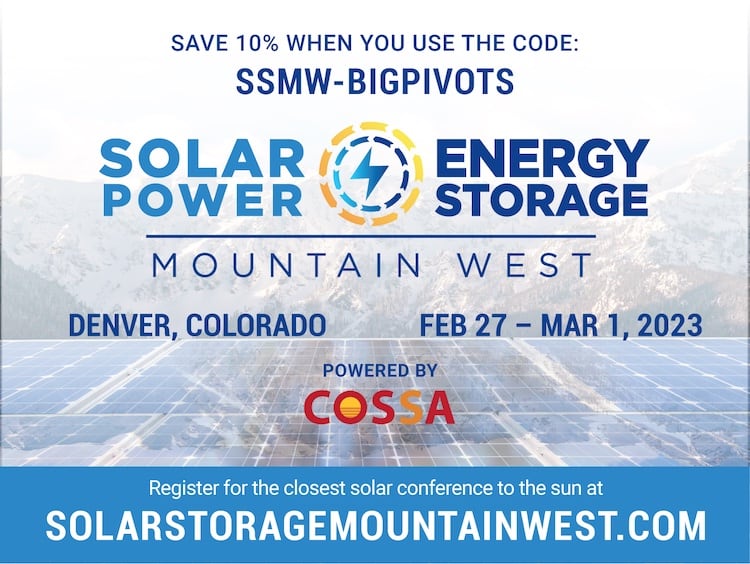 Advocates lined up 1,000 volunteers – including many members of CRES. Video scenes for the campaign commercials were provided by Dave Bowden, president of CRES in 2004, who led the group's fundraising and voter education efforts for the ballot initiative.
Early polling showed 70% to 75% of Colorado voters favoring Amendment 37.
Advocates secured funding for $500,0000 (including $10,000 from CRES), mostly for TV commercials. Xcel, Tri-State, and Washington-based utility trade groups raised $1.5 million, outspending the advocates three to one. Had they started earlier, they might have defeated the initiative. It passed 53.4% to 46.6%. It was the nation's first voter-initiated renewable-energy standard and a huge victory for CRES and Colorado's clean energy champions.
Momentum was building: First Colorado Green, then Amendment 37.
What followed soon after was Colorado's first gubernatorial campaign built on the premise of renewable energy. Its proponent? A one-time farm boy named Bill Ritter Jr.
Next: Next: Bill Ritter was in a tight race until he fired his advertising team and made a commercial that he wanted standing in front of the wind turbines in southeastern Colorado..
What you may have missed in this series:
Part 1: A coming together of minds in Colorado.
Part 2: Why note wind?
Or download the whole series in one e-magazine of Big Pivots 64.
Why support Big Pivots?
You need and value solid climate change reporting, and also the energy & water transitions in Colorado. Because you know that strong research underlies solid journalism, and research times take.
Plus, you want to help small media, and Big Pivots is a 501(c)3 non-profit.
Big grants would be great, but they're rare for small media. To survive, Big Pivots needs your support. Think about how big pivots occur. They start at the grassroots. That's why you should support Big Pivots. Because Big Pivots has influence in Colorado, and Colorado matters in the national conversation.
Latest posts by Allen Best
(see all)