PUC chair Eric Blank says Colorado is at a magical place in its energy transition, a place that can show some other purplish states how it's done
by Allen Best
In 2019, Colorado ceased nibbling at the edges of the energy transition. It had a new governor, Jared Polis, who had run on a platform of achieving 100% penetration of renewables (for electricity) by 2040. Democrats gained control of both chambers of the General Assembly.
Then the legislation gushed. Foundational was the law adopting economy wide carbon reduction goals for 2030 and 2050. A critical early piece was defining the pathway for shifting from coal to renewables in electrical generation. Then, after the covid-abbreviated session of 2020, more bills yet tumbled, this time focused on shrinking carbon emissions from buildings by the gradual phasing out of methane combustion.
Eric Blank, chair of the Colorado Public Utilities Commission, describes as "magic" the fast-changed economics that left coal generation the most expensive option and renewables the least costly at a time when most coal plants were deeply depreciated.
On the reduction of natural gas, "we're struggling to figure out that path forward," said Blank in an early October interview.
Among those scores of bills passed from 2019 and 2021, Blank identifies a handful, maybe 6 to 10, that were pivotal in giving state agencies—including the PUC—new directions and mandates.
"It's a shift from a reactive, backward-looking regulatory framework to a more forward-looking structure," says Blank. "It will require us to see what is around the next bend."
To assist the commissioners to look around the next bend, the PUC last year decided to provide each of the three commissioners one staff member to assist in researching emerging issues as the commissioner sees fit.
They are working on transportation and building electrification, regional markets, emissions tracking, water use of hydrogen, and perhaps a dozen other topics. The day after our interview, for example, Blank hosted a session that has to do with implementation of SB21-072, the PUC Modernize Electric Transmission law, which requires transmission utilities to join a regional transmission organization or independent system operator by 2030. The thinking on this is that for Colorado to deeply decarbonize its electricity, it must figure out sharing arrangements across broad geographic areas.
With new funding allocated by legislators in the 2021 session, staffing at the PUC has grown to more than 100 individuals. The three are part of that expansion and have been working for 8 to 10 months.
"I have been pushing for this since day one, because I thought it was the only way to implement the statutes," says Blank, who was confirmed as PUC chair in 2021 soon after legislators began their session.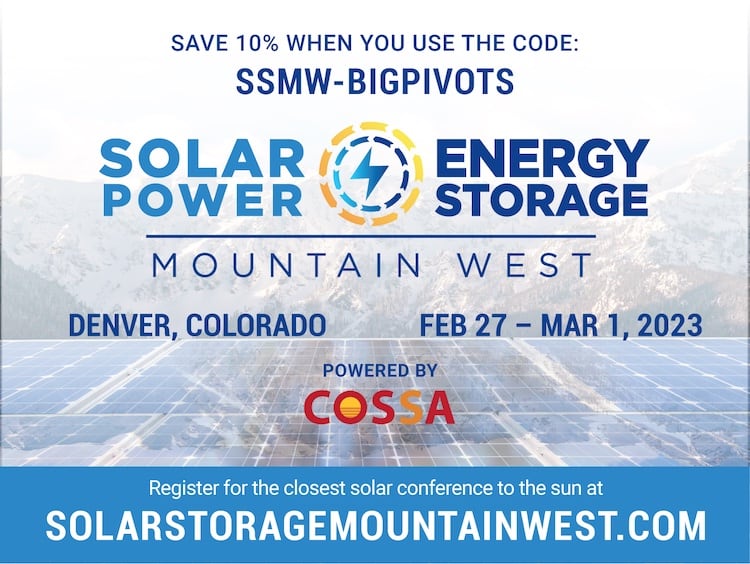 Driven by the new laws, the PUC has started shifting from being quasi-judicial and quasi-legislative in its operation more toward having a legislative role.
Other state agencies, notably the Department of Transportation and the Air Quality Control Commission, have also been given mandates to execute the intent of new laws that collectively seek to dramatically reduce emissions.
The other picture Blank paints is even larger. He describes Colorado as being at a unique moment. It begins with Colorado wind and solar capacity, neither superlative by itself but together perhaps unrivaled in the United States.
"The economics (of renewables) are coming into focus here sooner than some other states, and I think we have an opportunity to create a replicable purple-state model for decarbonizing at a reasonable cost. It involves everything—electrification, advanced metering, natural-gas planning, rules, battery storage, peaking capacity, transportation, and building electrification, regional markets, and enhanced regional cooperation. It's just an extraordinary moment in Colorado. I just think that Colorado has an opportunity to lead the way for a purple state model of how you do this right."
Is Colorado truly a purplish state? Before the November election, that was the oft-used description. Since 2016, though, it has become more Democratic. The November 2022 election solidifies that trend.
An economist by training with a law degree, Blank worked for Western Resource Advocates, then called Law and Water Fund of the Rockies, before setting out to develop wind and then, more recently, solar. For example, he developed the Comanche solar project located directly east of the coal-generating complex of the same name at Pueblo.
While developing solar, he said, he saw prices plunge to incredibly low prices. Supply chain disruptions and other problems have interrupted the descent of prices, but those price reductions will again pick up within the next couple of years.
The economics of solar aren't quite so compelling in cloud-prone states like the upper Midwest or in the South, but he predicts they soon will be.
Blank emphasizes affordability of renewable generation in Colorado, distinguishing the Centennial State from California, the Golden State.
"We are not going to decarbonize at any cost here. We are going to do this in a smart, sensible economically rational way that the technology opens up as the costs have fallen and as technologies have improved. And the fact that we are having economic growth while utilities charge below-average rates, that all helps."
Blank sees Colorado consistently ranked among the top 3 to 10 states by independent power producers, strategic plans of environmental foundations, and other lenses in a variety of subject areas.
It's the ability to transition to renewables while keeping rates rising less rapidly than inflation that may draw interest from slower-to-transition communities such as Wisconsin, Michigan, North Carolina, Georgia, and Arizona, he says.
At the end of the day, the solutions to climate change don't need to provoke tribal warfare and partisan politics," he says. "It's just economics."
Latest posts by Allen Best
(see all)