In Steamboat Springs, not an easy decision. And worries about disrupting hot springs help make geothermal a no-show 
by Allen Best
It came down to a choice between natural gas and all-electric (with diesel backup) for the new city hall and fire station in Steamboat Springs.
Geothermal wasn't even in the running.
By a 4-3 vote, the city council chose the electric route, despite increased operating costs estimated at $44,000 per year plus greater capital costs for the air-source heat pumps and other infrastructure.
Most passionate in favor of the natural gas proposal was Robin Crossan, the president of the council. She pointed to the vast improvement of the building code to which the structures will be built. "We are splitting hairs on efficiency factors, gas vs. electricity," she said.
The electric will cost an '"insane amount of money," she said. "This is not ours. This is our community's money, and it is a very hard for me to say we'll just keep spending it."
Still to be decided is whether the Steamboat Springs Area Fire District, a separate taxing district, will go along with electricity. A fire district representative said his organization favored natural gas.
In theory, the decision should have been easy. Both Steamboat and Routt County last August adopted a climate action plan. That plan calls for beneficial electrification, a strategy in which fossil fuel combustion in buildings is displaced by electricity.
Steamboat's power comes from Xcel Energy (via Yampa Valley Electric, a cooperative). Xcel promises to deliver 80% emission-free energy by 2030 and 100% by 2050.
But electricity costs more than natural gas. Tom Leeson, the deputy city manager in Steamboat, told the council that consultants had estimated the cost of heating the adjoining buildings with electricity using air-source heat pumps and electrified boilers will be $44,000 more annually than if natural gas was used.
Snowmelt for the fire department driveways is planned, something that the firefighters currently do not enjoy.
However it is heated, the building will be more energy efficient than the 1962 structure where city officials currently work. Many offices have space heaters, because the building leaks like a sieve.
Why not geothermal? The carbon footprint is zilch and the operating costs, once the system is installed, are minimal.
Colorado Gov. Jared Polis in July announced that geothermal would be his initiative during his year as chair of the Western Governors Association. Geothermal can mean tapping the Earth's heat to produce electricity, as is now done in California north of San Francisco. It can also refer to using the heat to displace fossil fuels from buildings.
Colorado Mesa University has deployed geothermal extensively on its campus in Grand Junction, and with spectacular success. More is planned.
Easily 100 homes and likely many more have used geothermal to displace natural gas from homes in the Montrose-Delta-Grand Junction area. In September, I had lunch with an individual who had a home and orchard near Palisade. He swore by the system he had installed in 2002. I have also written about how the owner of an estate in Eagle County had used geothermal to at least defray the fossil fuel use needed for his outdoor swimming pool.
Steamboat's case was more complicated. The plan that was examined would have required 60 to 80 wells be drilled about 300-feet deep in a half-city block where the new municipal building and fire station are to be located. Each well takes a day.
City staff and consultants estimated that the additional work required for geothermal would added capital costs while delaying construction, now scheduled to start on May 1, by two months The delay would have added a potential $3.4 million to the cost.
Too, there were questions about whether tapping the geothermal heat might have robbed the heat of the existing hot springs along the Yampa River a few blocks away.
Paul Bony, who oversaw installation of about 100 geothermal heating (and cooling) systems on behalf of Delta-Montrose Electric before moving to Steamboat Springs, spoke passionately in favor of the geothermal proposal. He also questioned the underlying assumptions used in the energy modeling. He pointed out that local prices for natural gas are higher, $1.15 a therm, than the statewide average of 75 cents per therm used in the modeling. He also said the assumed electricity rate was higher by a half-cent a kilowatt-hour.
Christine Berg, from the Colorado Energy Office, also urged Steamboat to be daring – but with all-electric. "This is the best time to build a new facility," she said. "There is more funding available than ever to build all-electric."
But certainty was lacking in precisely what funding might be available to defray the upfront costs. Steamboat, as a wealthier community, likely won't have high priority for funding granted by the Colorado Legislature earlier this year. Craig, yes, it would qualify easily because it's a disproportionately impacted community and one in the midst of the energy transition as its coal plants scale down production and, beginning in 2025, begin to close.
There seemed to be much confusion about whether Steamboat might be eligible for state grants that could defray the costs
The federal Inflation Reduction Act will produce money for buildings, but the funding criteria will not likely be worked out until January.
"You should budget for the project with the assumption that no grants will be received," Leeson said. "And then if we do receive grants, it's a bonus."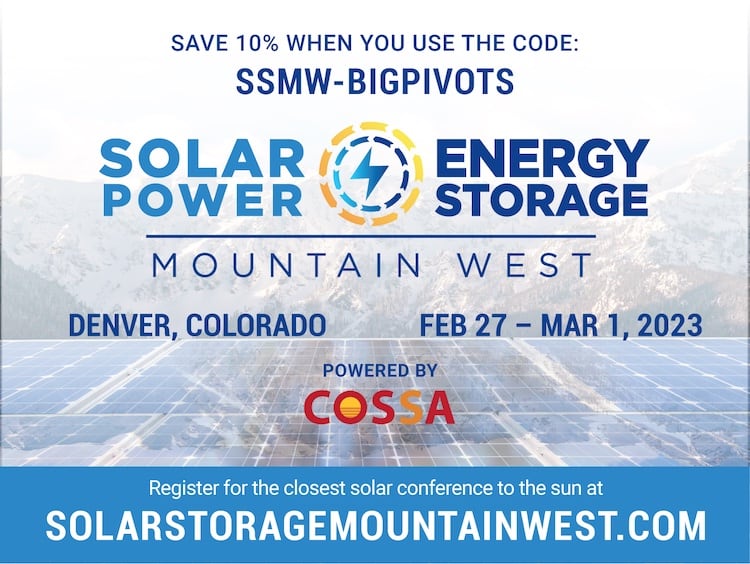 Afterward, I talked with Gary Suiter, the city manager in Steamboat Springs, whom I have known for close to 20 years as he has moved around From Snowmass Village to Minturn and various other towns in Colorado. We talked for 35 minutes as he laid out his reasoning.
"I cut my teeth writing block grants 40 years ago, and it doesn't matter whether it's the state or the federal government or what kind of promises they make," he said. Don't count on the money coming through.
Those experiences, he said, "make your more conservative." And he concurred that wealthier communities usually don't fare as well.
Suiter is familiar with geothermal from his days as administrator of Alamosa County. His wife ran a solar program. That was in the 1980s. Later, he was in the Roaring Fork Valley as renewable energy became celebrated there.
In this case, he says, the staff and consultants studied all sorts of options. For example, might heat be extracted from the city sewage stream, as Denver began doing in 2020? Might batteries be deployed in concert with solar PV?  "We are doing a solar feasibility analysis, but that has been lost in the sauce," he said.
Suiter said he was driven most by the uncertainties associated with geothermal in this particular case. He told me he had consulted Major, a Wheat Ridge -based heating and cooling company that has become a specialist in geothermal. The company representative, said Suiter, told him stories of both spectacular success and abject failure.
"One takeaway is that geothermal is tried and true, yet it has to be done right. You can't screw it up. You have to have people who know what they're doing."
The company said a diligence study would be required, and that would include studying the peak energy needs of the building and its annual heating and cooling needs. As for snowmelt for the fire department driveway – no, not with the amount of snow that Steamboat can get, he was advised.
But most worrisome was the potential impact on Steamboat's name-sake hot springs seven or eight blocks away. Suiter said he didn't wany to rob the heat from the hot springs.
That hot springs when the town was established emitted a chug-chug sound, inspiring memories of steamboats. Arrival of David Moffat's railroad in 1908 ended the chugging. Railroad construction had somehow altered the geology and hydrology.
"I didn't want to have a screw-up on my watch," said Suiter.
Why not slow the process down—wait another year to build?
Spiraling construction costs, he replied. Supply chains chokepoints and all other inflationary pressures have pushed prices upward and added uncertainty to major construction projects. The boilers, for example, require lead time of about a year.
Barring a recession similar to that of 2008, Steamboat assumed higher costs coming from continued delay, something the council couldn't accept.
This story was published in Big Pivots 63 (Nov. 30, 2022). Please consider subscribing.
Latest posts by Allen Best
(see all)