Homes with no natural gas are arising on Pueblo's prairie fringe. Has the market arrived for high-performance homes?
by Allen Best
It took Rod Stambaugh a couple of years before his vision of high-performance housing on the northeastern edge of Pueblo had anything to show. Now he and his two partners have started piling up the statistics.
In recent weeks they've sold three houses for an average price of $780,000. All three were cash buyers.
"It's been a long road, but it's getting easier," says Stambaugh.
The company, Pure Zero Construction, has 14 of the single-family houses under construction with work also underway on the first of 51 townhomes.
None will have natural gas. The no-gas component of North Vista Highland that the company has rights to build on could ultimately have 500 homes.
"We will compete all day on the merits and benefits of high-performance, all-electric homes as compared to the stick-built housing that uses natural gas," says Stambaugh. "We will win that battle every time."
The townhomes will have 2,200 square feet and come in at around $600,000, he says. The company expects buyers to come from the northern Front Range.
Pueblo has a deserved reputation for lower real estate prices, but it does have pricier homes, too. But Pure Zero is staking its reputation on both environmental performance, which translates into cost savings over time, and in health benefits. Accumulating evidence points to harmful impacts of indoor air quality from natural gas combustion, whether for space and water heating or for cooking.
Gene Meyers, a long-time "green" builder in the metro area, has also concluded recently that if for no other reason than health considerations, it's time to get rid of natural gas in the homes he builds.
Having no natural gas comports with Colorado's goals for greenhouse gas reduction goals. Several laws passed in 2021 provide direction to decarbonizing of buildings through various new metrics, including building codes that make natural gas less desirable. Colorado has so far, however, not imposed bans. The lone exception is Crested Butte, and the restriction there applies to relatively few units.
Stambaugh got into the building technologies world about eight years ago when he began pursuing the concept of 189-square-foot "tiny" homes after he returned to Colorado from living in California. That business is called Sprout Tiny Homes. He sold some of the tiny homes to the Aspen Skiing Co. for use in Basalt. He is now at work on a third generation of workforce housing for Aspen. Then, in 2020, he purchased land in a subdivision in Pueblo called North Vista Highlands. He had thought that there would be no natural gas at all in the giant subdivision. That has not, to Stambaugh's discomfort, been completely true. But it's true for the housing he and his two partners are building—and he has no plans to change.
"We will not deviate from our mission. We are not going to race to the bottom," says Stambaugh. "We are going to build high-performance homes where you can see, feel and breathe the difference. That is our mission."
One measure of a building's performance is a metric called HERS, short for home energy rating system. Existing homes may have HERS ratings of 130. New stick-built homes have improved to 100 – although a few production builders are shooting for lower. KB Homes has said it plans to achieve HERS scores of 45 nationally by 2025.
How do the Pueblo homes rate?
"We're in the low 40s and we actually had a negative 9 after you add solar," says Stambaugh.
High-performance building has several components. One is building tightly to avoid loss of heat or, in the summer, cool air. Unlike houses built from two-by-fours and two-by-sixes, the Pure Zero houses use structural insulated panels, or SIPs. They provide superior installation and, says Stambaugh, provide corners that are always on the mark. They cost more than wood at one point, but no longer.
No natural gas is another fundamental of the houses. Instead, electric-powered Mitsubishi air-source heat pumps wring the heat from outside temperatures efficiently down to zero (and to a lesser extent when colder). They can do the reverse during hot weather, replacing the need for air conditioning.
Stambaugh swears by Mitsubishi. They cost $1,500 more than other air-source heat pumps, but their superior performance at lower temperatures will result in less need for backup electricity. Those lower costs will recoup the original investment in five years.
Instead of natural gas stoves, the houses in Pueblo have induction-heating stoves. Bathrooms are tiled from top to bottom. Temperatures throughout the 3,900-square feet houses (with full furnished basements) are consistent. They're so structurally tight that they are quiet even within a construction zone.
There used to be a higher cost premium for the materials. That has somewhat gone away.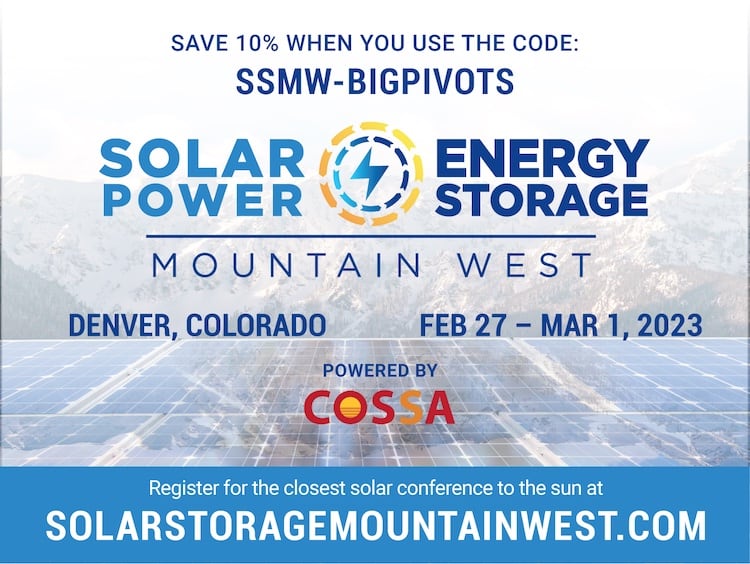 But building high-performance homes requires rethinking, including finding subcontractors willing to learn new techniques.
Stambaugh admits his team had difficulties at first finding craftsmen willing to learn how to install the new technology. Some refused. Now, as the housing market has slowed, some have returned, looking for jobs.
"We said fine, if you don't want to learn how to do it our way, we will find somebody who will," says Stambaugh. "Now they're coming back, saying 'Are you sure you don't have any work for us.'"
"We said yep – we don't have work for you."
This story was published in Big Pivots 63 (Nov. 30, 2022). Please consider subscribing.
Why support Big Pivots?
You need and value solid climate change reporting, and also the energy & water transitions in Colorado. Because you know that strong research underlies solid journalism, and research times take.
Plus, you want to help small media, and Big Pivots is a 501(c)3 non-profit.
Big grants would be great, but they're rare for small media. To survive, Big Pivots needs your support. Think about how big pivots occur. They start at the grassroots. That's why you should support Big Pivots. Because Big Pivots has influence in Colorado, and Colorado matters in the national conversation.
Latest posts by Allen Best
(see all)