CEO of electrical cooperative in the Ouray-Telluride area cites nearly 100% rate increase since 2000; Tri-State disputes that figure
Directors San Miguel Power Association will meet March 29 to consider whether to go down the same partial-requirements path on which the La Plata Energy Association has started.
Both electrical cooperatives on the flanks of the San Juan Mountains are supplied by Tri-State Generation and Transmission.
The proposal calls for Ridgway-based San Miguel to supply 35% of its own power for peak demands, compared to 5% now. This is a maximum 15 megawatts. The cooperative serves Ouray, Telluride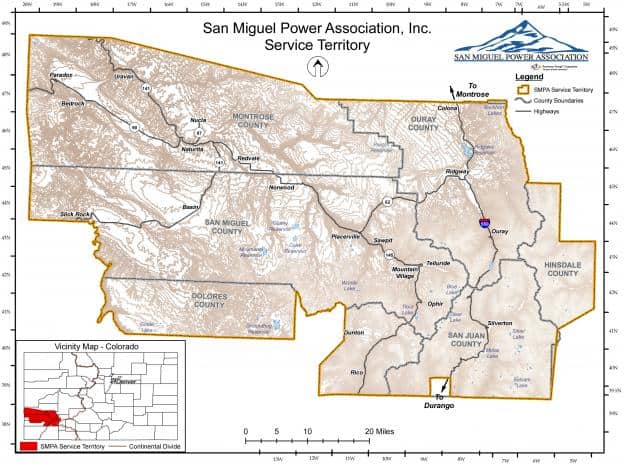 In 2020, San Miguel asked for proposals, and it now has four that directors are being asked to consider as part of this package.
Brad Zaporski, the chief executive, pointed to Tri-State's costs, an average 4.19% increase per year since 2000. Although Tri-State has had one rate decrease and another is promised, projections by Tri-State released in February make a rate increase in 2023 difficult to avoid, said Zaporski. Meanwhile, San Miguel has rising costs of its own, most notably fire mitigation, grid reliability, and a sharp rise in material costs due to national and international inflation.
Tri-State disputes the 4.19% average rate increase cited by Zaporski. "Tri-State's wholesale rate has been flat or decreased over the last five years (since 2017), and the lower wholesale rate we have in place today is forecast in our long-term financial forecast to remain flat through 2027," says Lee Boughey, Tri-State vice president for communications.
Like La Plata, which plans to get 50% of its power from a new company called Crossover Capital, San Miguel sees Tri-State having continued value, most notably its transmission.
Even if San Miguel goes forward with this, said Zaporski, it will take a while, as these proceedings must now be funneled through the Federal Energy Regulatory Commission.
Latest posts by Allen Best
(see all)