Proposal before Colorado regulators would more carefully march Tri-State toward decarbonization goals
by Allen Best
Tri-State Generation and Transmission has committed to ratcheting down emissions associated with generation of electricity it delivers to its 18 cooperative members in Colorado under an agreement filed with state regulators on Tuesday.
The settlement agreement reached by environmental groups, the staff of the Colorado Public Utilities Commission and other parties, including Tri-State and many of its member cooperatives, calls for the wholesale electrical supplier to cut emissions 26% by 2025 and then 80% by 2030, with increments within that five-year span.
Tri-State had previously agreed to reduce emissions 80% compared to 2005 levels by 2030, but that promise was voluntary. This agreement, if adopted by the PUC commissioners, will bind Tri-State to meet those reductions. It would make Tri-State the first Colorado utility other than Xcel to be bound to reductions that accord with the Colorado Greenhouse Gas Pollution Reduction Roadmap.
The generation and transmission association  will "dispatch its resources in priority of reliability, affordability, and environmental considerations while meeting" these binding carbon-reduction targets, the agreement says. The interim steps include a 36% reduction in 2026 and a 46% reduction in 2027.
The settlement was in response to Tri-State's electric resource plan filing, its first with the Colorado PUC as required by a 2019 law. Initial filings began in December 2020. Such settlement agreements are not uncommon as attorneys representing utilities and other parties seek to find areas of compromise. In November, a settlement agreement was filed in the electric resource plan filing by Xcel Energy. In that case, however, there was significant dissent from two environmental groups. No similar dissent was filed in response to this agreement.
The 32-page filing on Tuesday also has other major components. See the agreement Tri-State electric resource plan settlement agreement, and the motion to the PUC to accept the agreement Unopposed joint motion in Tri-State settlement agreement.
Craig Station coal-burning unit 3
Craig Generating Station's unit 3, previously planned for retirement by 2030, could theoretically be retired as early as 2025. The settlement  requires Tri-State to conduct various modeling exercises that would govern when the coal-burning units can best be retired. The theoretical possibility for that retirement moves to July 2025. Reliability of delivering electrical supplies will be one of the modeling sideboards.
Tri-State wholly owns that unit, which has a 427-megawatt generating capacity. The first and second units, which are operated by Tri-State by co-owned with other utilities, are scheduled to retire in 2025 and 2028.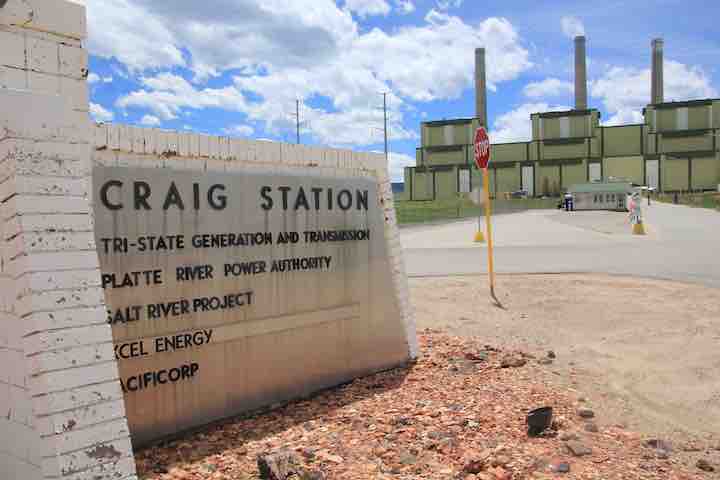 The settlement specifies a variety of modeling exercises to be conducted using a wide variety of assumptions, some of them entirely new. For example, the agreement will require the social costs of carbon and methane be used to help determine when Craig 3 as well as gas-burning units at Burlington can be economically be retired.
Another variable has to do with the partial requirements contracts that Tri-State has said it wants to offer its members, which could result in dramatically reduced demand from its members as they generate more electricity themselves or procure it from other sources
Just how Tri-State will provide power it needs for needs of members isn't fully clear. IT will be asking for bids from developers, including from wind and solar. It has also indicated it wants to add capacity from natural gas plants. The agreement, however, crimps that possibility somewhat in that it specifies a depreciation period of no more than 20 years.
Demand-side management
If adopted by the PUC commissioners, the agreement would also require Tri-State to take a hard look at what can be achieved by more demand-side management programs and beneficial electrification programs. The agreement, if approved, binds Tri-State to incremental energy efficiency savings targets.
Tri-State long maintained that it had no relationships with end users, unlike an Xcel Energy or Black Hills Energy, or municipalities such as Colorado Springs Utilities. That's because Tri-State selsl to its members, who in turn have direct relationships with their members. As such, there's an intermediary. This agreement acknowledges that separation between Tri-State and end users, but stipulates that much can be done anyway.
In December, Tri-State had acknowledged as much by creation of a new senior staff position of chief energy innovations officer. Red Rudolph, formerly the chief executive of San Isabel, filled that position beginning Monday. He is to lead Tri-State's efforts on beneficial electrification, demand-side management and distributed generation.
Demand-side management programs seek to reduce demand by increasing energy efficiency or, in some cases, by shaving peak demands, through programs such as those that reward customers who are willing to shut down air conditioners on hot afternoons for 10 or 15 minutes at a time. In that way, it's possible to build less generating capacity.
Beneficial electrification is an umbrella phrase that refers to replacing fossil fuels, both in transportation and in buildings, with electricity, the latter produced by renewable sources.
Just transition is the final major component of the agreement. The agreement would require Tri-State to submit to the Colorado Office of Just Transition, a workforce transition plan for Craig. An independent third-party facilitator is to be hired to lead a process involving Craig, Moffat County, the Colorado Energy Office, and the Office of the Utility Consumer Advocates, as well as the Office of Just Transition and Tri-State, to develop a report addressing opportunities.
This is to kick off before March, with the state agency picking up the first $100,000 of the cost and Tri-State the remainder with its cost for the facilitator capped at $200,000.
Settling parties include the Colorado Energy Office, the Office of the Utility Consumer Advocate, Western Resource Advocates, the Colorado Solar and Storage Association, the Colorado Independent Energy Association, the Natural Resources Defense Council, the Sierra Club, Western Colorado Alliance, International Brotherhood of Electrical Workers, Interwest Energy Alliance, and the Southwest Energy Efficiency Project. Also, 8 member electrical cooperatives in Colorado and 8 member electrical cooperatives in Wyoming.
Latest posts by Allen Best
(see all)