Colorado's second largest utility worries about cost of reliable electricity with renewables. Environmental advocates challenge extreme-weather and other assumptions
by Allen Best
Tri-State Generation and Transmission wants to stay the course on operating its last coal-fired unit in Colorado through 2029, as it had previously announced. It says it needs to do so to ensure reliability and it also cites concerns about supply chains needed for new renewable energy.
Some environmental watchdogs question the assumptions upon which that planning is based, including the modeling of weather extremes for both winter and summer lasting two weeks.
In a report to the Colorado Public Utilities Commission on Monday, the wholesale supplier explained that it prefers to add 200 megawatts of wind in 2026, even though it will have 596 megawatts of "long capacity."
It has committed to closing the first two units at Craig before 2026 and 2029 but wants to continue to keep operating the 448-megawatt coal unit at Craig through 2029. It also owns coal-burning units in Wyoming and Arizona. It specifies plans for the latter unit to continue until 2040.
Tri-State, which provides power for 17 of Colorado's 22 electrical cooperatives, calls its revised preferred plan an "aggressive, yet incremental, approach." Just a few paragraphs later in the filing, however, it describes itself as "cautious."
Tri-State says it expects to cut emissions associated with generation of electricity for its Colorado members 81% in 2030 as compared to a 2005 baseline. That will put it at 70% "clean" electricity.
This compares with 80% clean energy for Xcel Energy by 2030 (and an 85% reduction from 2005. Two other power providers in Colorado, Holy Cross Energy and Platte River Power Authority, both aim for 100%, although the latter's stated goal comes with many conditions about what will be necessary for it to succeed.
Crucial to Tri-State's needs will be the demand from its members in coming years. Three of the 42 members in its four-state operating area have given notice they will be gone. Brighton-based United Power expects to be independent by May 2024 and Granby-based Mountain Parks Electric in January 2025. This assumes that the Federal Energy Regulatory Commission approves a formula for determining how much they must pay on their way out the door to leave remaining Tri-State members "whole." A recommendation from an administrative law judge last year that generally favors the departing members. Whatever the outcome, however, that decision can be appealed.
What matters entirely is that the two cooperatives in Colorado alone constitute more than 20% of the demand for electricity supplied by Tri-State. A third member, in Nebraska, accounts for another sliver.
Tri-State's preferred alternative assumes that these three co-ops  remain members but also acknowledges they may be gone. "Tri-State must be cautious about pursuing new resources based on a load forecast that includes these members," says the filing.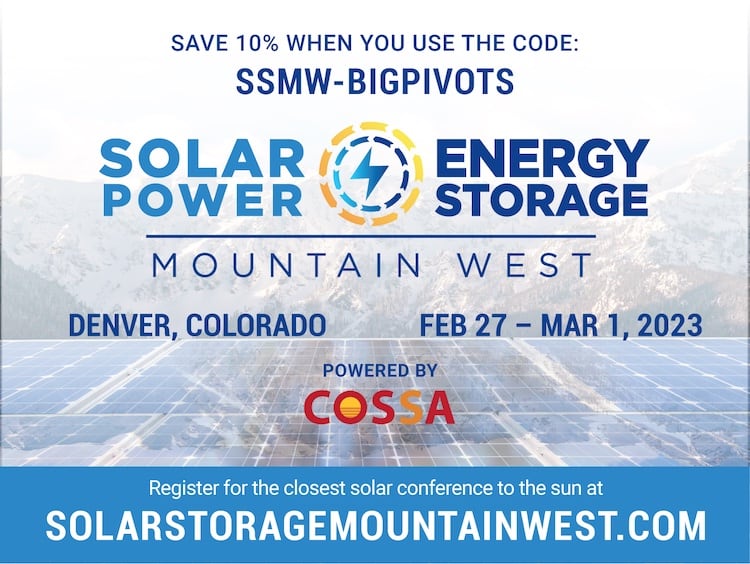 Big Pivots sought an interview with Duane Highley, the chief executive of Tri-State, proximate to the posting of this 150-day filing with the PUC. That offer was not accepted. However, he was interviewed in December by Llewellyn King, a contributor to Forbes. For the excerpts of that interview, see the next page.
The  Sierra Club's Matthew Gerhart, an attorney, and Eric Frankowski, program director for the Western Clean Energy Campaign, shared their observations about the filings with Big Pivots.
Gerhart points to the assumption about retaining members that is a premise for the need to continue operations at Craig until 2030.
He also points to another major assumption that he believes helps Tri-State conclude it needs to continue operating Craig. The modeling  incorporates extreme weather events lasting two weeks each in winter and in summer.
Extreme weather has become a greater concern in electric planning in the wake of  the Pacific Northwest heat dome in June 2021 that caused temperatures in Portland to rise to 118. Climate change scientists predict more weather extremes as the atmosphere warms.
There is also the precedent of winter Storm Uri in February 2021. Temperatures plunged and the winds ceased.
Gerhart, however, challenges modeling that plans for two-week-long weather events. The modeling required by the PUC of Xcel Energy was for extreme heat for only one day. The windless portion of the winter storm in 2021 lasted only three days.
"I have not seen Tri-State provide any historic weather data or any climate forecasts that correspond to the specific weather events that they modeled here," says Gerhart.
Frankowski, at the Western Clean Energy Campaign, accuses Tri-State of using these and other assumptions he contends are unfounded in arriving at a conclusion that justifies continued operation of Craig's final unit beyond 2027.
"When you add up all the ways Tri-State is massaging and manipulating the data it puts into its modeling, it kind of amounts to putting their thumb on the scales and tilting the outcome in favor of keeping their coal assets running as long as possible," he said. "Coal is expensive, and In the end, the people paying for Tri-State's skewed results are rural Coloradans who get their power from member co-ops. That seems hugely unfair."
Frankowski points to a January 2023 study by Energy Innovation Policy and Technology, the think tank headed by Colorado native Hal Harvey. That study, "Coal Cost Crossover 3.0 Report," found that electricity from the Craig Generating Station (all three units) is 62% more expensive than power from solar projects in the region. He believes that Tri-State also underestimated the benefits of using battery storage as a source of energy.
A huge question mark is how technology may evolve in the next few years that can diminish concerns about reliability of renewables. Lithium-ion batteries are limited in duration, but 100-hour storage technology will be tested in a pilot project at Pueblo beginning in 2025. Breakthroughs in long-duration storage would seem to be a game-changer. Tri-State acknowledges technological innovation but makes no bets.
Another major change that should cushion the intermittency of renewables is creation of a new market or annexation into an existing market knitted together across a broad geographic region.
Highley, the chief executive, has spoken often and enthusiastically about the prospects of joining the Southwest Power Pool, the Arkansas-based regional transmission organization. A Colorado law requires Colorado utilities to join a regional transmission or organization by 2030.
In his December interview, Highley stressed his concerns about reliability. He said he worries about the inability of utilities to keep up with growing demands for electricity.
"The day of reckoning is coming, when the weather is going to catch up to us and we will have another of those Uri-type events, and there will be loss of life if the lights go out," he said. "I sincerely hope that won't happen, but I don't think we will get serious about the realities of the energy transition."
In the interview, which was also on PBS, Highley described the energy transition being directed by many state regulatory bodies but at a pace faster than the industry can cost-effectively adjust and also faster than the supply chain can catch up. "The supply chain can't absorb more money," he said.
"'Electrify everything' means, eventually, you have to rebuild the transmission system to higher capacities, and we don't have grids that can carry 40% more than we are now serving."
In May 2022, Tri-State announced it would accept proposals for new generation. That RFP yielded 274 eligible proposals, which were filtered through various considerations, including transmission connections, community stewardship, and the bidder's prior development experience.
This left 11 bids that were then integrated into models. They included 5 bids for a total of 630 megawatts, 2 for wind (with the total megawatts redacted from the public filing), plus several bids for solar-plus battery and for standalone battery.
All this, in Tri-State's preferred alternative, yielded 200 megawatts of wind.
Tri-State also examined four other alternatives, which it calls models, that in the eyes of the wholesaler, fall short. Standing out was the model that would have closed Craig 3 by the end of 2026.
This portfolio, says Tri-State, "results in the addition of an unrealistic and costly amount of new hybrid renewable-storage resources to meet reliability metrics," says the PUC filing. "Further, the availability of such resources from experienced bidders at the size and locations needed, at a competitive cost, is uncertain and likely to come with significant curtailment costs and a need for additional third-party transmission capacity reservations."
Stakeholders have until March 30 to file comments, after which Tri-Sate will have several week to respond. Then it will be up to the PUC  to make a decision.
Why support Big Pivots?
You need and value solid climate change reporting, and also the energy & water transitions in Colorado. Because you know that strong research underlies solid journalism, and research times take.
Plus, you want to help small media, and Big Pivots is a 501(c)3 non-profit.
Big grants would be great, but they're rare for small media. To survive, Big Pivots needs your support. Think about how big pivots occur. They start at the grassroots. That's why you should support Big Pivots. Because Big Pivots has influence in Colorado, and Colorado matters in the national conversation.
Latest posts by Allen Best
(see all)