Holy Cross Energy's solar + storage project near Glenwood Springs reflects partnerships and synergies. Can it find other such projects in the Aspen-Vail-Rifle area?
by Allen Best
When the ribbon was snipped in mid-September for the solar and storage project at the Spring Valley campus of Colorado Mountain College, the phrase "win-win-win" was used.
The wins were credited to the college, which has a goal of zero-carbon electricity, the same as that of Holy Cross Energy, the electrical supplier at 3 of the college's 11 campuses.
Holy Cross benefited, gaining use of the 22 acres for the project and in a way that furthers its goals.
And the solar and storage combination makes the campus a refuge in times of power disruption, said Bryan Hannegan, chief executive of Holy Cross.
"In a pinch, if there was a nearby wildfire or if there was an outage on our system because of a power failure," he said, the solar and storage complex was "sufficient to power this campus and keep people safe and comfortable."
This story was published in Big Pivots 63 (Nov. 30, 2022). Please consider subscribing.
Expect more such community energy system projects, Hannegan said. "We are now starting to work in cooperation with Colorado Mountain College, with towns and counties, with developers and homeowner associations and still others to think more holistically about what it means to provide sustainable energy for the people we serve, the people who are our neighbors."
Storage was the key to making the deal come together, says Jenna Weatherred, the vice president of member and community relations at Holy Cross.
"We are always looking for additional generation in the valley, but it's not as beneficial to our membership if it doesn't have storage attached," she says. "We end up with more solar in the middle of the day when we don't need it."
Holy Cross plans additional solar installations in its service territory between Aspen, Parachute, and Vail. Two projects, at the Garfield County Airport at Rifle and the second at Battlement Mesa, have been identified.
The utility has also had discussions with a school district within its service territory for a project that will, if it is consummated, have parallels to that of the CMC Spring Valley project. School district officials have been leery of publicity until details get ironed out.
In addition, Holy Cross has also been talking with developers of low-income housing projects about solar as well as some smaller projects in the Eagle Valley, but land scarcity there makes projects such as found at the CMC campus less likely, said Weatherred.
Colorado Mountain College had been thinking about how it could advance its sustainability goals. It had land.
"It's south-facing and there are no neighbors to complain," says Seth Goddard, who was then with the college and is now a consultant based in Carbondale. Plus there was already a substation in the area because of a wastewater treatment plant for the college campus.
He traces the first study of the 22-acre site to 2019. In early 2020, Holy Cross set out to develop more solar in its service territory to balance the wind and other generation being imported from eastern Colorado. It is providing some incentives when it sees projects that check off multiple boxes.
Helping nudge along the process at the college campus was CLEER, Clean Energy Economy for the Region, a Carbondale-based non-profit with a mission of accelerating the energy transition and increasing energy independence. Erica Sparhawk, a subcontractor for CLEER, says her organization primarily tried to assist the college in putting together its proposal for consideration by Holy Cross.
The deal that finally emerged allows the college to offset its electrical use at its campuses, Spring Valley plus those in Edwards and Aspen. "This was a classic case of what you want to see in projects, where everyone is a winner," says Sparhawk.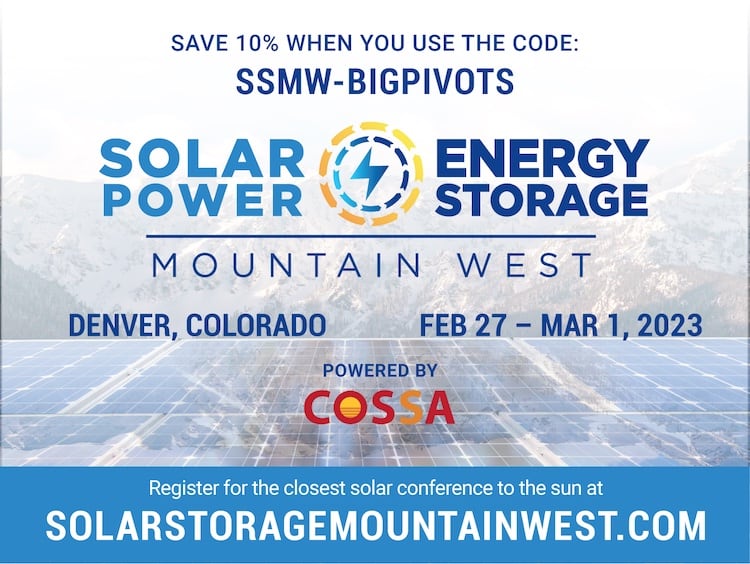 At the CMC campus in September, Hannegan extolled the flexibility given to Holy Cross by the batteries.
The solar energy being harvested could be sent directly into the grid or it can be saved in the batteries, which can then be ramped as needed. The batteries can store the entire output of the solar array for three hours.
"It gives us a measure of control over this clean energy resource. From a utility perspective, that is massively important," he explained. "This takes the place of a natural gas combustion turn in its traditional role of balancing the grid. That is an important step in our journey."
In coming years, he added, even greater benefits will be derived from storage at the solar projects in Rifle and Parachute as technology continues to improve.
See also: Colorado's biggest ever battery
Latest posts by Allen Best
(see all)